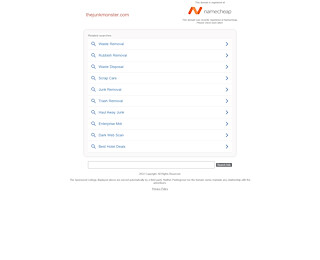 Looking for a reliable, courteous company to do your junk hauling? Purcellville residents are invited to call the Junk Monster any time. We'll send our shiny and clean fifteen cubic yard Monster Truck. We recycle most of what we haul, so you know we're the green junk solution.
There can be many junk shops offering
junk hauling Purcellville
services, but not all of them are capable of being reliable, fast, and efficient in removing all the necessary trash and junk in your property. A good junk hauling service should be easy to get in touch with and give you rates upfront (with no hidden fees) so you won't have to worry about your budget later on.
Being on time is crucial, too. The junk hauling service team should arrive on time and do their job quickly without compromising your schedule.
Sanitation is also important in junk hauling. The junk removal company must have a clean and running truck that can transport the junk away from your residence or place of business. A good junk hauling service should also provide you with a friendly team of haulers who are wearing their company's uniform while they're on the job. That way, you can easily identify who you are working with.
With these things in mind, we formed The Junk Monster to provide junk hauling Purcellville services in the Tri-State area, Virginia, Winchester, and surrounds. We aim to provide the most affordable junk removal services. The Junk Monster is different from other junk hauling services in Purcellville because of our on-time service, friendly team (in uniforms), clean trucks, and honest rates. Furthermore, we make sure to keep the Earth clean. Call us at 540-550-JUNK to start. You may also request a donation receipt for tax benefits when you let us haul your junk.